Welcome to Rosi Robinson's World of Batik Painting
Rosi's 2018 forthcoming exhibitions.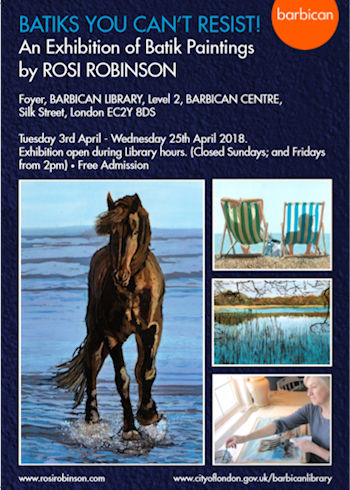 'BATIKS YOU CAN'T RESIST!'
An exhibition of Batik Paintings by Rosi Robinson.
3rd April - 25th April., 2018.
This is Rosi's fourth solo exhibition in the Foyer of the Barbican Library, Barbican Centre (2nd level), Silk Street, London EC2Y 8DS. She will be exhibiting both figurative and abstract paintings on cotton fabric and paper.
The Private View is on April 4th 6pm - 8.30 pm.
The exhibition is closed on Sundays and Fridays from 2 pm. Otherwise it's open during Library hours. Please check online - www.barbican.org.uk/visitor-information/Barbican-library
---
2. Rosi is exhibiting at Parham House and Gardens, near Storrington, West Sussex RH20 4HR with the Sussex Guild on 16th and 17th June, 2018, 10am - 5pm.
____________________________________________________________________________________
Rosi's first Batik Workshop in 2018
In Mid-Sussex, UK - Rosi will be teaching a batik workshop on Saturday, June 9th and Sunday 10th, and Saturday, 2018:- 'Discover the Magic of Batik' at the Martindale Centre, Station Road, Horsted Keynes, Near Haywards Heath, West Sussex, RH17 7ED. 9.30am - 4pm. If you are interested in joining the workshop, please contact Rosi on rosirob@aol.com.
For more information about other workshops, see Exhibitions and Workshops page.
---
ROSI ROBINSON'S BATIK PAINTINGS AND TEXTILE ART
I hope you will enjoy visiting my Art Gallery, highlighting many of the batik paintings I've produced over the years. Since 1970 batik has been my passion. It has a magic that no other technique has to offer.
This traditional Far Eastern resist process of decorating fabric using wax and dyes, is over 2,000 years old. Where hot wax is applied to cloth or paper, these areas will resist colourful dyes. So starting with white fabric, I wax the areas I want to keep white and then continue to apply washes of dye, building up to the darkest colour, waxing the details at each stage. A picture gradually evolves and comes to life. This is why I love doing Batik as it is extrememly versatile and can produce wonderful exciting results. Over the years, I have enjoyed pushing the technique in both figurative and abstract ways.
I am a batik artist who is based in the UK, but spend a good part of the year in Nova Scotia, Canada, and in the USA. I have also travelled the world exhibiting, teaching and lecturing about batik. As you will see, my travels have provided me with inspiration for my batik paintings.
In this website, I hope you will be amazed at the range and versatility of my batik paintings. I am sure you never dreamed that figurative paintings like these were possible in batik. I must have wax flowing in my veins!
Batik takes time, care and patience to produce. They are 'one-offs' and so once the picture has been sold, they are gone. Many of my batik paintings have been sold. Therefore, in order to make the images more available to everyone, I have had printed limited edition giclee prints and cards of selected images which are available for purchase.
Do have a look at my batik paintings in the Gallery. Please contact me on rosirob@aol.com If you would like to purchase any of them or have any questions about talks or lectures. If you would like to join a batik workshop, the details are under Workshops. And do check out my exhibitions.
I hope you enjoy browsing through my gallery and website.
Rosi Robinson