Publications
'Decorative Fabric Painting' (Merehurst/Fairfax, 1994) - Out of Print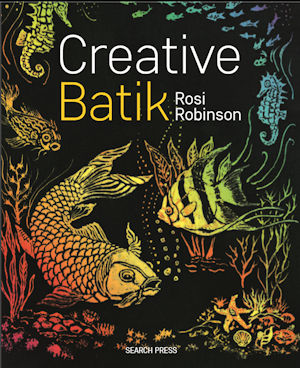 'Creative Batik' Republished as a Search Press Classic, July 2016. Cost £9.99 plus postage
'Start To Batik' (Search Press, 2009) Out of Print
Double DVD - "Batik Workshop - Fun with Paper and Fabric (Studio Galli, 2012)
£25.00 plus £2.50 postage or in Canada and USA $40 plus $5 postage (mailed from USA or Canada)
In this DVD, Rosi Robinson presents a variety of techniques with useful tips on how to create batik art.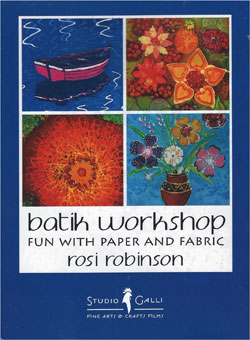 On DISC ONE, 'Paper Workshop', Rosi explores a variety of ways to use waxes, tools and dyes to achieve some incredible effects on may types of paper. She presents some great ideas for how to use the papers you have made - from wall art to greeting cards to illuminated lamps.
On DISC TWO- 'Fabric Workshop', Rosi explores the use of traditional and non-traditional batik implements on both silk and cotton - using Indonesian and other waxing tools from around the world as well as things from around the house. She produces a range of results on silk and cotton - from wearable to wall art, exploring the richness of colour and the benefits of wax to surface design.
Featured in 'Craft and Design' Magazine (Sept/Oct 2012) Finalist and a full-page feature in 'International Artist' Magazine competition - Seascapes, Rivers and Lakes' (Feb/March 2014 issue)
10-page article 'Capturing the World in Wax and Dyes' in 'International Artist' Magazine (Aug/Sept 2015 issue).
Batik on Fabric + Paper - Now Available!

What could be more fun than to spend an afternoon working with Batik on Fabric? How about working with Batik on Paper as well!

Enjoy this self-paced workshop in learning a variety of ways of using Batik wax as a resist. Rosi Robinson has been teaching Batik for years and is the Author of several leading craft books on Batik from Search Press. She lends her expertise in this wonderful workshop which is playful, whimsical, and skillful at the same time.
Enjoy the introduction for free! www.youtube.com - Batik on fabric and paper

PART ONE - BATIK + PAPER
Everything from fine art papers to tissue paper is explored, as well as the idea of working additive (dyes, inks and watercolors) to subtractive (using discharge as a decolorant).

Rosi begins with a wonderful overview of the history of Batik, and moves into learning how to use wax melting equipment, application methods and explores how to set up your studio. She demonstrates wax resist with everything from waxy crayons on rubbings to batik wax and dyes, igniting the possibilities of where the learner might go from one section to the next.
PART TWO - BATIK + FABRIC



Complex imagery is explored as well on silk and cotton fabrics. Colorful scarves and cotton shirts are worked with fiber reactive dyes both brushed on as well as dip dyed to show the variety of possibilities. Color blending, gradation, and specialized techniques such as feathering and spattering are demonstrated, offering the viewer many new skills to apply to their work.

Rosi explores Batik on Fabric using tjantings, cookie cutters, sponges and other traditional and non-traditional tools. She shows how to create floral, starburst as well as mark making motifs, each designed to teach a specific way of working with the wax template.
'CAPTURING THE WORLD WITH DYES AND WAX'
Having pushed art aside in favour of academic subjects, it was an interest in the technique of batik that reinvigorated Rosi Robinson's passion for art. A teacher for 43 years, Rosi explored batik in her spare time, though it wasn't until she retired from her position as Head of Art at Cumnor House School in Danehill, Sussex, that Rosi found the opportunity to explore it full time.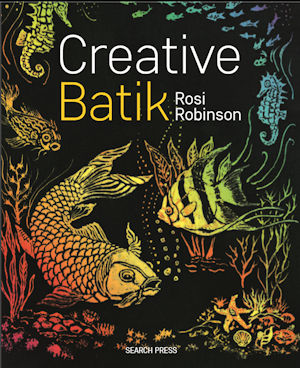 Throughout her years of exploring the medium, Rosi has developed a style wholly her own, favouring a figurative, painterly style. The highly detailed pieces are created by building up layerrs of wax and dye in a painstakingly slow process.
In addition to exploring her own inspirations - in particular, light and its reflections on water and her travels, Rosi is also open to accepting commissions. "I'm thrilled when somebody asks me to create something for them. So far, I've completed a wide range of commissions including landscapes, houses, boats, animals and sporting themes."
So just why is Rosi so drawn to batik? "It's such a magical medium, especially when the colours suddenly explode onto the fabric,'" she explained. "The dyes sink into the fabric itself as as they are not sitting on top, the colours are richer and the result has more depth than a traditional painting. It's also versatile and allows for both experimentation and control, especially when working on different fabrics and papers.
'I've continued with batik for over 40 years because it's exciting, slightly unpredictable but with pleasurable results and the actual process is very meditative and contemplative - you have to go 'with the flow' of the molten wax when drawing with the canting tool."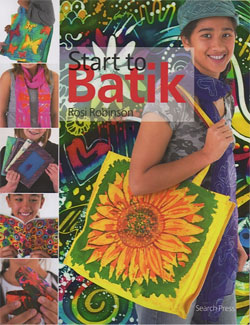 In addition to her original pieces, Rosi also sells prints and cards; has written three books; lectures; gives demonstrations and teaches batik workshops to both adults and children.
Fortunate enough to have exhibitied throughout the world, Rosi's work will next be exhibited in the International Textile Biennale in Haacht, Belgium, in February 2015, with the AppArt at Prior's Field School, Godalming, Surry, April 2015, and at Art in Action, Waterperry, Oxon in July.