Welcome to Rosi Robinson's World of Batik Paintings & Textile Art
I hope you enjoy visiting my website and learning about Batik - its History; the Technique of Batik; about me as a batik artist and why I continue to enjoy the challenge of batik. Do look through my Gallery / Shop which highlights many of the batik paintings I've produced over the years. Since 1970, batik has been my passion. It has a magic and versatility that no other technique has to offer.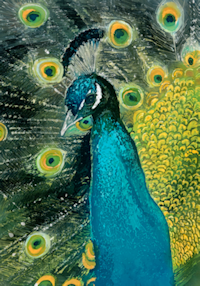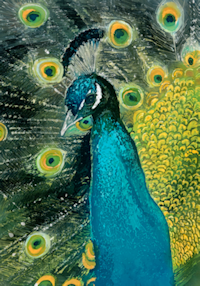 My batik paintings are often mistaken for figurative watercolour paintings. They don't look like traditional batik. However, I promise you - they are batiks!
I treat the fabric like a watercolour, where I apply hot wax to fabric to resist consecutive washes of dye. I don't crackle the wax. I prefer the details and translucent dye colours to shine through. At the end of the process I remove the wax with an iron, thus revealing the colourful picture on the fabric
I enjoy doing commissions. If you'd like me to capture a memory or special event in a batik painting, please contact me to discuss it further. Do have a look at my original batik paintings, limited edition giclee prints & greetings cards in the Gallery/Shop. Please contact me on rosi@rosirobinson.com if you would like to purchase any of them or would like to enquire about talks or workshops. Please click on Workshops and Exhibitions for more information. My next batik workshop is on October 30th and 31st, 2021 at the Martindale Centre, Horsted Keynes, West Sussex, RH17 7ED. At the moment the workshop is full, but I will be teaching another one at the end of March. Do contact me if you are interested in joining it on rosi@rosirobinson.com
I will be exhibiting on Saturday 4th and Sunday 5th December, 2021, 10 am - 5pm, with the Sussex Guild at the Contemporary Craft Show at Mid Rother College, Midhurst, West Sussex. Please contact me on rosi@rosirobinson.com, if you'd like me to send you an invitiation or if you're interested in finding out more about my workshops and future exhibitions.
In the meantime, please enjoy browsing through my gallery and website.
Rosi Robinson rosi@rosirobinson.com
RECORDED DELIVERY
Shipping
All items are carefully handpacked by myself and the prints and batiks insured for safe delivery
LOCKDOWN REWARD
Treat Yourself
Treat yourself or someone you love with a beautiful Batik original by Rosi Robinson.
Email Rosi