Welcome to Rosi Robinson's World of Batik Paintings & Textile Art
I hope you enjoy visiting my website and learning about Batik - its History; the Technique of Batik; about me and why I continue to love batik and of course, my Gallery, which highlights many of the batik paintings I've produced over the years. Since 1970, batik has been my passion. It has a magic and versatility that no other technique has to offer.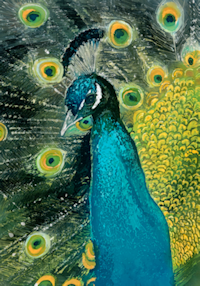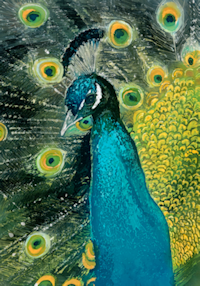 When you see my batik paintings, they are often mistaken for figurative watercolour paintings. They don't look like traditional batik. However, I promise you - they are batiks!
I use traditional waxing tools - cantings, kystkas and Japanese brushes - to apply wax on 100% primissima cotton fabric to resist layers of colourful dyes. For some reason I can achieve more depth of colour when I batik on fabric, because the dyes sink into the fibres, rather than sit on the surface. My work is mainly figurative.
In this website, I hope you will be amazed at the range and versatility of my batik paintings and the variety of subject matter. I am sure you never dreamed that figurative paintings like these were possible in batik. I must have wax flowing in my veins!
Do have a look at my batik paintings, prints & cards in the Gallery. Please contact me on rosi@rosirobinson.com if you would like to purchase any of them or would like to enquire about talks or workshops. Please click on Workshops and Exhibitions for more information. My next batik workshop is on March 27th and 28th, 2021 at the Martindale Centre, Horsted Keynes, West Sussex, RH17 7ED.
Unfortunately, most exhibitions had to be cancelled this year. However, I am exhibiting in the Brighton Artists' Open Houses Online Exhibition with 4 other textile artists - Jenn Adamson, Sue Cowell, Mary Evans, and Elisa Quevedo, from November 21st - 31st December. Do check the website: aoh.org.uk. Click on Open House, then Online only and we are 'Contemporary Textile Art Works. Please contact me if you're interested in finding out more about batik.
In the meantime, enjoy browsing through my gallery and website.
Rosi Robinson
---
Here Rosi discusses her work as a painterly artist -- an expression which describes using traditional implements such as kitzkahs, tjantings, dye, wax, and indonesian cotton to achieve portraits that rival water colors, oils and pastels for their depth, warmth, beauty, and detail.
"...My travels and many interests are my inspiration. My work ranges from realistic land and seascapes, sporting scenes (especially rugby and cricket), animals, birds, horses, flowers to abstract images, e.g. reflections, which I create with the wax and dyes on fabric and paper. I try to capture movement, colour and luminosity in my work, as well as contrasting light and shadow."
Produced by Studio Galli Productions
Edited with original piano music by Andrew Galli.