Publications
BOOKS
Rosi has written three books on batik.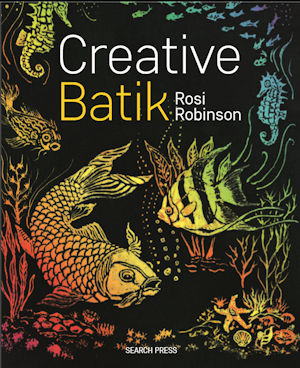 Creative Batik
(Search Press, 2001, republished in 2016 as a Search Press Classic) cost £9.99, plus postage £3.65.
In 'Creative Batik' Rosi explores many different batik techniques, including random waxing, using brushes, cantings, and kystkas, masking, crackling and sgraffito on paper and fabric. She also explains about direct and dip-dyeing, plus discharging dyes.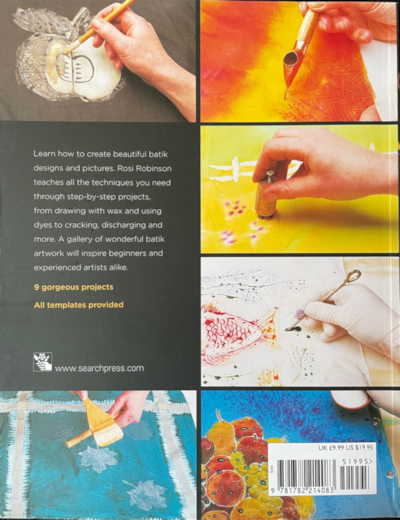 Creative Batik cont.
Rosi shows how beautiful flowers, trees, birds animals, landscapes and abstract designs can be created using the innovative projects and helpful step-by-step photographs. At the end of the book, a gallery of Rosi's wonderful batik artwork will inspire beginners and experienced artists alike.

You can purchase Creative Batik here
Decorative Fabric Painting
(Merehurst/Fairfax, 1994) (out of print).
In Decorative Fabric Painting, Rosi demonstrates a whole range of fabric painting techniques, from spatter painting, marbling, sponging, printing and stencilling to resist dyeing, gutta and batik, and shows how to make a variety of beautifully decorated projects for the home, including table mats, napkins, cushions and a screen.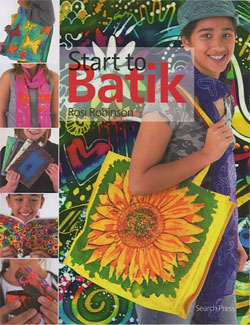 Start to Batik
(Search Press, 2009) (out of print)
Learn how to batik. It's fun and easy to do. In this book Rosi shows you everything you need to start batik including batik on paper and fabric. There are step-by-step projects showing how to batik scarves, wall hangings, bracelets, bags and more.
Rosi has been featured in a number of books including 'Batik for Artists and Quilters' by Eloise Piper (Search Press, 2001) and Rita Trefois 'Fascinating Batik - Techniques and Practice(2010).
---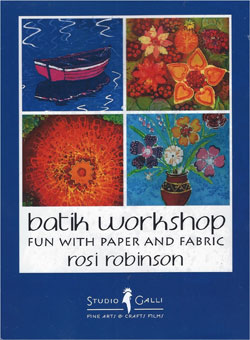 In September 2012, Rosi produced a double DVD: Batik Workshop - Fun with Paper and Fabric (Studio Galli).
In this double DVD, Rosi presents a variety of techniques showing how to use Batik wax as a resist to create batik art.
Cost £25 (postage £3.50 in the UK) and USA $40 plus $6 postage (mailed from USA or Canada).

You can purchase Fun with Paper and Fabric DVD set here

Disc One
Batik+Paper Workshop
Rosi begins with a wonderful overview of the history of Batik, and moves into learning how to use wax melting equipment, application methods and explores how to set up your studio. Rosi explores a variety of ways to use waxes, tools and dyes to achieve some incredible effects on many types of paper. She presents some great ideas for how to use the papers you have made - from wall art to greeting cards to illuminated lamps.

Disc Two
Batik + Fabric Workshop
Rosi explores the use of traditional and non-traditional batik implements on both silk and cotton fabrics - using Indonesian and other waxing tools from around the world as well as things from around the house. She produces a range of results on silk and cotton - from wearable to wall art, exploring the richness of colour and the benefits of wax to surface design.
Colorful scarves, cotton T-shirts, cushions and a batik picture are worked with fiber reactive dyes both brushed on as well as dip-dyed to show the variety of possibilities. Color blending, gradation, and specialized techniques such as feathering and spattering are demonstrated, offering the viewer many new skills to apply to their work.

MAGAZINES
Rosi has been featured in many magazines, including Artists' and Illustrators' magazine, (1994), Home Style magazine (1996), Popular Crafts magazine, (2004) Craft and Design magazine (Oct. 2010) and International Artist magazine (2014 and 2015).
Rosi was a finalist with her 'Reeded Loch' batik painting in the International Artist magazine competition 'Seascapes, Rivers and Lakes' (Feb/March, 2014). and a finalist in a similar competition in the International Artist magazine (Feb/March 2022)
In the August/September 2015 issue of the International Artist magazine, Rosi published a 10-page stage-by-stage article 'Capturing the World in Wax and Dyes' describing how she created her batik painting of 'Day Out'.
See What is Batik for some of the images.
---
Enjoy this self-paced workshop in learning a variety of ways of using Batik wax as a resist on a variety of papers + fabrics.
Rosi Robinson has been teaching Batik for years and is the Author of several leading craft books on Batik! She lends her expertise in this wonderful workshop which is playful, whimsical, and skillful at the same time.
Produced by Studio Galli Productions
Andrew Galli.
---
Here Rosi discusses her work as a painterly artist -- an expression which describes using traditional implements such as kitzkahs, tjantings, dye, wax, and indonesian cotton to achieve portraits that rival water colors, oils and pastels for their depth, warmth, beauty, and detail.
"...My travels and many interests are my inspiration. My work ranges from realistic land and seascapes, sporting scenes (especially rugby and cricket), animals, birds, horses, flowers to abstract images, e.g. reflections, which I create with the wax and dyes on fabric and paper. I try to capture movement, colour and luminosity in my work, as well as contrasting light and shadow."
Produced by Studio Galli Productions
Edited with original piano music by Andrew Galli.
---