About the Artist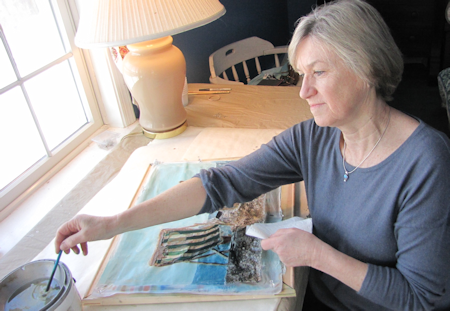 Who would have thought in 1969 when I graduated with a B.A. Hons. in History from Vassar College, New York, USA., that 53 years later I would have made my living from teaching Art in schools and from travelling and exhibiting my batik paintings in the UK., Europe, Canada, USA, Japan, China, Indonesia and Sri Lanka..
I was born in Edinburgh, Scotland. When I was at school, I pushed Art aside to concentrate more on academic subjects. It was only when I was introduced to batik in 1970, whilst I was studying for a Post-Graduate Certificate of Education in Bristol, U.K., that I realised that I had missed out on my artistic education.
For the first eight years of my teaching career, I was lucky to be appointed the Art specialist in a number of primary schools in Bristol, UK. I taught drawing, painting, collage, weaving, batik and pottery but it was the technique of batik that really captivated me. It has a magic that no other technique offers. So I started to exhibit my batik paintings in exhibitions and at craft fairs.
Then I moved to Sussex, UK. In 1986 I joined both the Sussex Guild and Batik Guild. (I'm now the Overseas Representative of the Batik Guild).
From January 1986 - July 2013, I was Head of Art at Cumnor House School in Danehill, Sussex. Many of my students won art awards to their senior schools as well as awards in national competitions. I taught all kinds of Art to children aged 5 - 13, but I made a point of introducing every child to batik so they could explore the many possibilities that this wonderful technique has to offer.
Now that I am retired, I don't know how I managed to combine my own batik work with full-time teaching. Thank goodness for school holidays! I am still based in the UK, but spend the summers in Nova Scotia, Canada, (my maternal grandmother was Nova Scotian) and a few months each year in Maryland, USA.
I have been fortunate to exhibit throughout the world, including Canada, USA, China, Japan, Indonesia, Europe, and of course in the UK. I have lectured and taught workshops in Japan, China, UK, Europe, USA and Canada and my work is in private collections worldwide. I have written three books on batik, including 'Creative Batik' (Search Press, 2001/2016). Please go to my Publications page for more information about my magazine articles, books and DVD. In the last 20 years I've had four solo exhibitions in the Foyer of the Barbican Library, Barbican Centre, London, UK. During 2014 and 2015, I taught batik workshops to teachers throughout the UK for Specialist Crafts. I taught a two-day workshop at the Bath Textile Summer School in 2017, and have been invited to teach a three-day workshop at the summer school again on August 15th - 17th, 2022.
I am now concentrating on advancing my personal batik work. I lecture, give batik demonstrations, teach workshops to adults and children and participate in exhibitions throughout the world. It's amazing how batik continues to be my passion. Retirement? What retirement?!
Rosi Robinson
---
Here Rosi discusses her work as a painterly artist -- an expression which describes using traditional implements such as kitzkahs, tjantings, dye, wax, and indonesian cotton to achieve portraits that rival water colors, oils and pastels for their depth, warmth, beauty, and detail.
"...My travels and many interests are my inspiration. My work ranges from realistic land and seascapes, sporting scenes (especially rugby and cricket), animals, birds, horses, flowers to abstract images, e.g. reflections, which I create with the wax and dyes on fabric and paper. I try to capture movement, colour and luminosity in my work, as well as contrasting light and shadow."
Produced by Studio Galli Productions
Edited with original piano music by Andrew Galli.