Rosi Robinson Batik Artist
Exhibitions & Workshops
ROSI'S EXHIBITIONS IN 2020
AppArt Exhibition at Prior's Field School, Godalming Surrey has been postponed due to Coronavirus.
'The Artist's Garden', Exhibition Green Tree Gallery, Borde Hill Gardens, Haywards Heath, West Sussex has been postponed.
Sussex Guild Exhibition at Mid Rother College, Midhurst on Saturday, 4th and Sunday 5th December 2020. 10 am - 5 pm.
---
BATIK WORKSHOPS 2020
Unfortunately, due to the Coronavirus pandemic, Rosi had to cancel two workshops - the one in March and the other in May. Hopefully by the end of October, people will be able to work together, albeit 2 metres apart, which will be possible at the Martindale Centre in Horsted Keynes, Sussex..
1. 'Discover the Magic of Batik' workshop at the Martindale Centre, Station Road, Horsted Keynes, near Haywards Heath, West Sussex RH17 7ED.
30th October and 1st November, 2020. 9.30am - 4pm.
If you are interested in joining the workshop, please contact Rosi on rosi@rosirobinson.com. or rosirob@aol.com Come and play! Both beginners and those with experience are welcome.
3. Unfortunately, Rosi's three-day batik workshop 'Pushing Boundaries in Batik' at the Bath Textile Summer School on the 17th - 19th August, 2020 has been cancelled. Cancelled. Fortunately, the workshop has been postponed to next year on 11th - 13th August, 2021. For more information, please contact Lynne Roche at www.bathtextilesummerschool.co.uk.
4. A three-day batik workshop in Nova Scotia, Canada. 11th, 12th and 13th, September, 2020, at 100 Queen Street, Chester, Nova Scotia, B0J 1J0 Canada. For more information please contact Rosi on rosirob@aol.com.
---
ONE OR TWO-DAY BATIK WORKSHOPS
If you are interested in joining a workshop, please see the information below.
Explore the Magic of Batik'
with Rosi Robinson
at the Martindale Centre, Station Road, Horsted Keynes, West Sussex RH17 7ED
Learn the basics of this wonderful traditional resist technique of decorating fabric. Discover the magical quality and variety of effects that batik - wax, dyes, fabric (and paper) - has to offer.
This one or two day workshop is suitable for any level of experience. You can work at your own pace and ability under the supervision of the internationally renowned batik artist and instructor, Rosi Robinson.
You will be introduced to a variety of traditional and contemporary techniques on cotton fabric using hot liquid wax and fibre-reactive dyes. You will learn how to apply hot wax with brushes, cantings (Tjantings), Caps (tjaps) and stamps both found and made; etch and spatter wax. You will learn how to do batik in a more painterly way - almost like painting in watercolours - on both fabric and paper. By waxing areas at each stage you will learn how to build up a picture or design by applying dye washes starting from the lightest colour leading up to the darkest. You will also learn how to discharge colour on both paper and cotton fabric. During the weekend you will produce one or more colourful batik designs or pictures.
You will need only an apron, a hairdryer and some ideas and photographs.
The cost of a one day workshop is £55 and for two days is £110, plus £5 - £10 depending on materials used. All materials are provided plus tea/coffee, but please bring a packed lunch.
The day starts at 9.30am and lasts till 4 - 4.30pm.
Please email Rosi to find out dates of her next workshops.
As a freelance tutor and lecturer she is happy to travel to your Group or Organization and offer talks, presentations and/or batik workshops.
Please contact Rosi Robinson at:-
69a Sunte Avenue, Lindfield, Haywards Heath, West Sussex, RH16 2AB
E-mail: rosi@rosirobinson.com or rosirob@aol.com Website: www.rosirobinson.com
or print, fill out and post/mail to Rosi at the address above.
PAST EXHIBITIONS
1.'Batiks to Dye For', A Solo Exhibition of Batik Paintings by Rosi Robinson - Horsham Museum and Art Gallery, 9 Causeway, Horsham, West Sussex, RH12 1HE - Friday, 21st October - Saturday 19th October, 2016.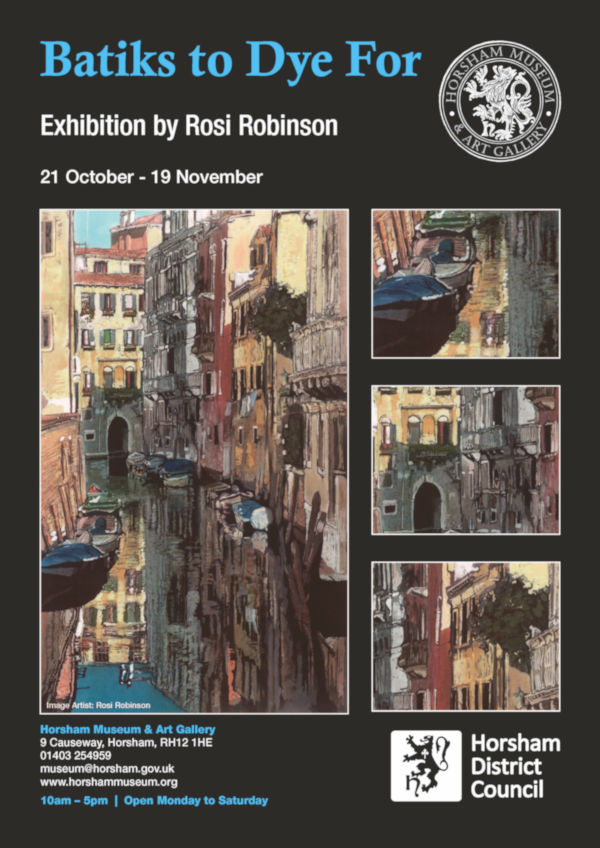 2. 'Colour with Confidence III', Standen House, Near East Grinstead, West Sussex. June 15th - 3rd July, 2017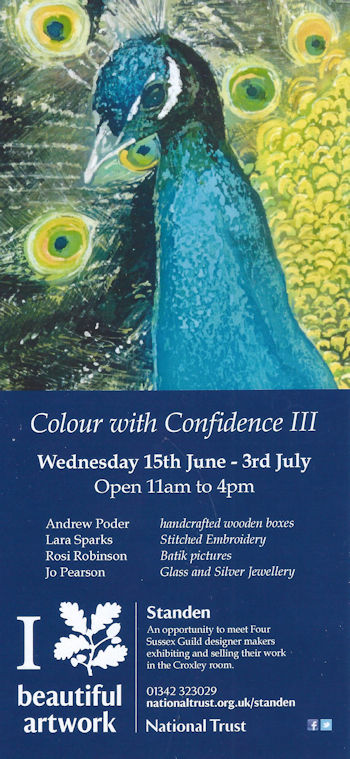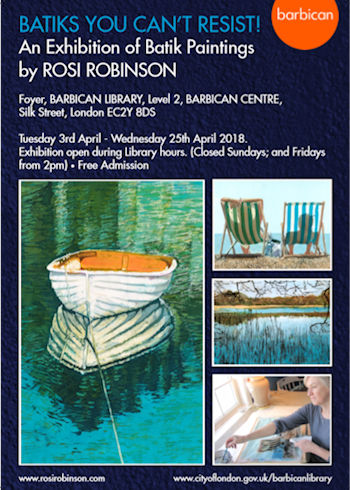 ---
Application for Batik Workshop
Please fill in the form to apply for any workshop
ROSI ROBINSON'S BATIK PAINTINGS & TEXTILE ART
Cards, limited edition giclee prints and original paintings available which you can purchase here in the gallery