Conservatory, Standen House
This is a batik painting of the Conservatory at Standen House, a National Trust House near East Grinstead in West Sussex. It is renowned for the beautiful William Morris wall paper adorning the walls in every room.
For a number if years I was fortunate to exhibit there with a group from the Sussex Guild. I used to spend some time wandering through the house and gardens taking photographs of the beautiful plants, both inside and out. In this batik painting I tried to capture the calmness and serenity of the Conservatory with the wicker chairs and tropical plants.
Original batik painting on cotton is for sale.
Measurements: 51 1/2cms x 52 cms, (20" x 20 1/2")
Limited Edition Giclee Prints - for sale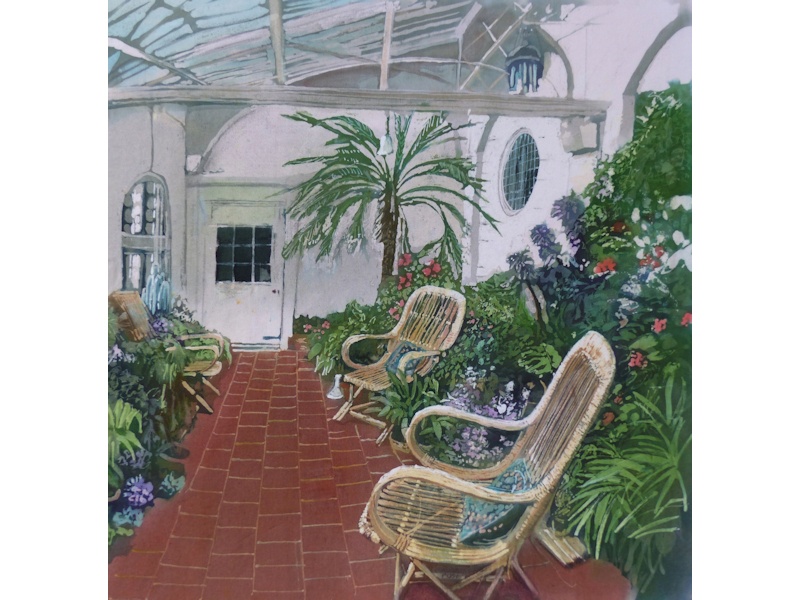 ---
Original batik painting - for sale. Price: £475.00 Postage: £0.00
'Conservatory, Standen House'

Price: £475.00
Postage: £0.00
Debit/credit card & Paypal accepted
Please click below
---
Limited Edition Giclee Print - A3 with mount. Price: £85.00 Postage: £0.00
'Conservatory, Standen House'

Price: £85.00
Postage: £0.00
Debit/credit card & Paypal accepted
Please click below
---
Limited Edition Giclee Print - Midi (30.5 cms x 25.5 cms). Price: £65.00 Postage: £0.00
'Conservatory, Standen House'

Price: £65.00
Postage: £0.00
Debit/credit card & Paypal accepted
Please click below
---