Floating Leaves and Reflections of Trees
I love trying to capture reflections of trees in water in batik. I'm drawn to reflections in water. Every time I go for a walk I have a camera in my hand, ready to photograph moving reflections.
In this batik painting, I have tried to capture a 3D effect - the floating autumn leaves on the water with some sinking below the surface, and the reflections of the trees in the lake. It took me a long time to batik.
I don't usually have a dark surrounding border round my batiks. I decide this time to experiment. This is more like a hanging and isn't framed. However, it could be!
Original batik painting is sold.
Measurements: 1.m x 0.70m
Limited edition giclee prints - for sale - A2 and A3 - postage additional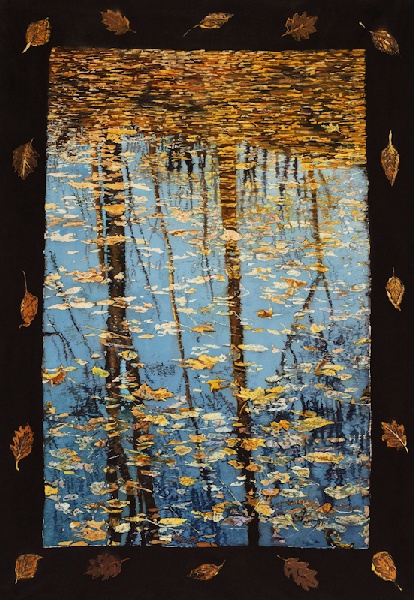 ---
Limited Edition Giclee Print - A2. Price: £125.00 Postage: £4.50
'Floating Leaves and Reflections of Treess.'

Price: £125.00
Postage: £4.50
Debit/credit card & Paypal accepted
Please click below
---
Limited Edition Giclee Print - A3. Price: £95.00 Postage: £3.75
'Floating Leaves and Ref;ections of Trees'

Price: £95.00
Postage: £3.75
Debit/credit card & Paypal accepted
Please click below
---