Les Grandes Dames
A batik painting of five of the old Classic Fleet wooden boats tied up to the Chester Yacht Club Wharf, Nova Scotia, Canada.
The boats are two International One Design boats - 'Might Mo' and 'Airlie'; two 'C' class boats, 'Ripple' and 'Eclipse'; 'the Virginia' a 'Q' class boat built in 1913; and 'the Hayseed IV' a 'P' class boat, built in 1912. All the five boats can be seen racing in the Classic Fleet races during Chester Race Week each year
Limited edition giclee prints - for sale - A2 and A4 sizes
7" x 5" Greetings cards - for sale
Original batik painting on cotton is sold.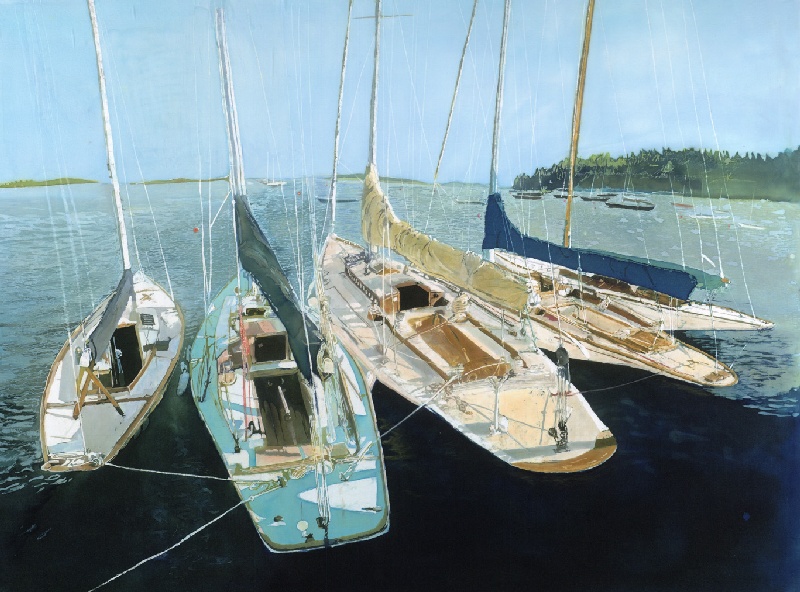 ---
Greetings card - 7 x 5 inches (17.5 x 12.5 cms). Price: £3.75 Postage: £0.00
'Les Grandes Dames'

Price: £3.75
Postage: £0.00
Debit/credit card & Paypal accepted
Please click below
---
1 Pack of 5 Cards. Price: £16.00 Postage: £0.00
'Les Grandes Dames'

Price: £16.00
Postage: £0.00
Debit/credit card & Paypal accepted
Please click below
---