Full Flight at Sunset
Batik painting on cotton of a flock of birds in full flight at sunset. In this painting I have tried to capture the warmth of the sun and the changing colours of the silhouettes of the geese as they fly in front of the sun.
I demonstrated this batik, when the BBC antiques show 'Bargain Hunt' film crew came to film me in March 2022. The programme was broadcast on Monday, 15th August, 2022! You can watch the programme on BBC IPlayer for a year after the broadcast! I was very honoured to be filmed when Bargain Hunt was filiming in Sussex!
Original Batik painting on cotton - sold Measurements: 63 cms x 51 cms (25" x 20")
Limited Edition Giclee prints - A2 and A3 - for sale Greetings cards - for sale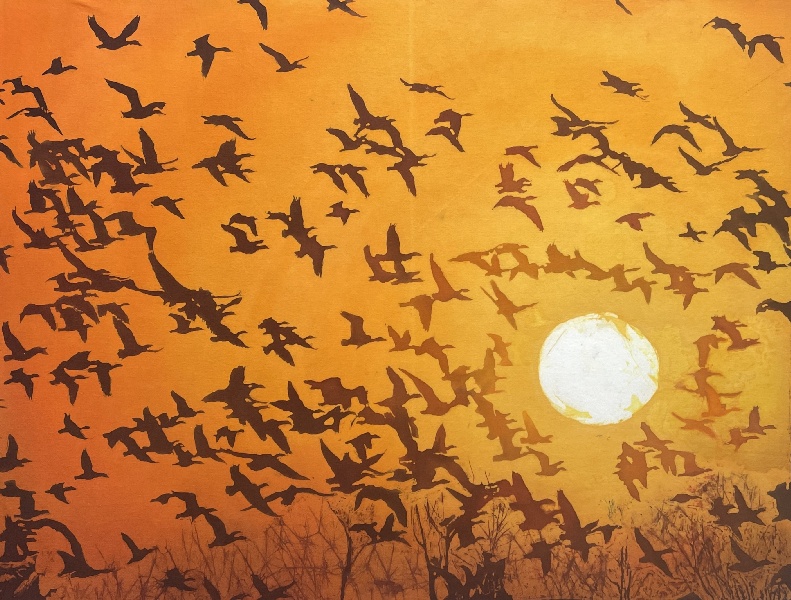 ---
Greetings card - 7 . Price: £3.75 Postage: £0.00
'Full Flight at Sunset'

Price: £3.75
Postage: £0.00
Debit/credit card & Paypal accepted
Please click below
---
Pack of Greeting cards - 4. Price: £16.00 Postage: £0.00
'Full Flight at Sunset'

Price: £16.00
Postage: £0.00
Debit/credit card & Paypal accepted
Please click below
---